TrylawnTurf | Contact Trylawnturf for synthetic turfs and poured rubber flooring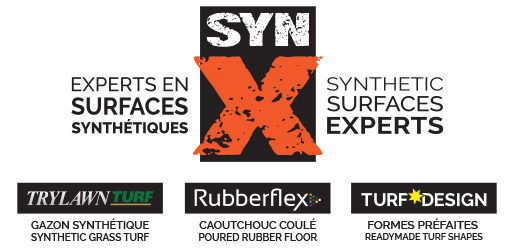 In order to serve you better, Trylawnturf, Rubberflex as well as Turfdesign are now grouped under the name SYN-X, the synthetic surfaces experts.
Visit the transactional site of Syn-X to purchase online your supplies of synthetic grass, cast rubber and other products for synthetic surfaces.
We also sell accessories, and offer professional installation.
Our products are shipped from our warehouse in Laval, Quebec.
Monday to Thursday: 10am – 4pm
Friday, Saturday & Sunday: closed
From November 2022, and for the winter season,
showroom visit, warehouse pickup by appointment only. Online shopping anytime!
Questions? We have answers
If you would like a price on synthetic surfaces installation, please fill THIS FORM.